Corporate Social Responsibility
Homepage>Corporate Social Responsibility
Innovation and Commitment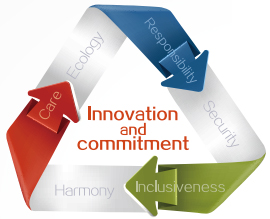 It has always been SinoMedia's commitment to placing equal emphasis on business development and fulfillment of social responsibility over the years. While focusing on the ecological changes in the industry and keeping up with the times in innovative development, the Group, as always, remains committed to the core family culture of "care, responsibility and inclusiveness" by making thorough consideration in the interest of employees and providing them with security. In 2015, SinoMedia concentrated on improving the professionalism of the management of social responsibility, striving to accomplish the development of corporate, social, industrial and employee in a harmonious manner.
Environmental Protection
SinoMedia always remains committed to the path for green development, cycle development and low-carbon development, taking the protection of environment and the keeping of ecological balance as its responsibility. It abides by the principle of energy saving in office management and encourages all employees to lead a low-carbon green life and work style together.
1. Energy Conservation System. The Group has taken an active part in implementing an accountability system by emphasising the practice of switching off lights and power sources after work to promote the appropriate use of electricity. Moreover, inductive hand-washing facilities have been installed to avoid the waste of water resources caused by negligence.
2. Paper Usage. An online office automation system has been implemented across the Group for encouraging paperless office and operation as well as reuse of paper. Despite the increased demand of paper as a result of the rollout of new businesses, more than 5,000 pieces of paper were saved during the year.
3. Emission Reduction Measures. The supply of bottled water for meetings has been cancelled to reduce "white" pollution. Moreover, the Group has actively encouraged its employees to reduce unnecessary business trips. Face-to-face meetings have been replaced by telephone conferences to reduce carbon emissions arising from transportation during business trips.


Employee Development and Training
SinoMedia upholds its "talent strategy" by focusing on personnel training and building a smooth career path to help employees realise their dreams at SinoMedia.
1. Expanded the scope of training and focused on the effect of training. As the Group's business segments updated in 2015, business training and exchange in the same segment became particularly important. For this reason, the Group expanded the scope of training so that more employees were able to receive relevant professional training, and networking opportunities were provided for employees from different business segments to better identify and solve problems.
2.Refined the categories of training and regulated the pace of training. To accomplish better training management, the Group divided training into three categories in 2015, namely knowledge-based training, skill-based training and quality-based training. It also exercised overall frequency and time control for these three training courses, placed emphasis on the demand research prior to training, and ensured the continuity and relevance of on-the-job learning and development were in line with employees' needs.
3. Provided training programmes specifically for management issues. Based on the performance feedback in various aspects such as daily performance management and employee relations, the Group proposed customised training solutions and provided appropriate support for different levels, departments and employees to solve problems thoroughly related to the Group's structure, teams and individuals.
Employee Activities and Benefits
SinoMedia promotes a healthy work and life philosophy. In 2015, it organised a series of annual events to help employees relieve their stress and enrich their life. Moreover, the Group has been very concerned about diet and health of its employees by caring for them in terms of benefit distribution.
1. "SinoMedia Sports Day" for the year was named as "Running SinoMedia" after the theme of a popular major variety show, in which the objective to build physical fitness and make friendly contact with colleagues of various departments was achieved in puzzle game playing and competitive running.
2. The Group continued to provide its employees with lunch voucher to ensure that they had safe and convenient dining on working days.
3. In the periods of frequent haze during the year, the Chief Executive Officer of the Group contributed a special donation to the Groups Caring Fund, which was given to employees as reimbursement for purchasing anti-haze masks, thus effectively mitigated the impact of haze for the protection of their health.
4. The Group organises various events regularly every year, such as "Group Weddings at SinoMedia", "SinoMedia Parents Children Day", "Tours for Outstanding Employees and Their Families", "Birthday Party for Employees" and "Charity in Action", to make sure that its employees have a happy job and a healthy life.
Participation in Community Events
SinoMedia pursues the "Gratefulness and Contribution" value by playing an active role in participating in charity events for striving to build a harmonious society.
Volunteer Activities
Following the establishment of the Caring Committee in 2012, the Group improves the rules of action and management regulations every year with an aim to contributing more to the well-being of the society. In 2015, the Group continued to re-visit the straitened teachers and students at the Yanjing Little Swan School for migrant workers' children. The Group raised educational subsidies and various school supplies from the charity bazzars and auctions organised by employees, which were then used to purchase textbooks for students and to improve the teaching and learning environment. Through one-to-one caring project, the employees were able to experience the joy of personal involvement in charity events and fulfillment of individual social responsibility on one hand, while the children could have the mental strength to grow up with all efforts on the other hand.
Publicity for Charity Events
The Group produced a number of advertising videos for charity events in 2015 to promote public safety knowledge and tips to the general public. Of these videos, the "Be Cautious with Online Purchase in Food Safety" and the "Fire Prevention Tips" were well-received.
Intellectual Property Protection
The Group continued to step up intellectual property protection, especially in terms of trademark protection, by adopting comprehensive intellectual property protection measures. During the year under review, the Group renewed the registration of the existing trademarks. In line with business needs, the Group applied for a total of eight registered trademarks for goods and services respectively under Category 35 (Advertising, Business Management and Marketing), Category 38 (Telecommunication and Communication Services), Category 41 (Education, Training, Entertainment and Cultural Activities) and Category 42 (Scientific and Technological Services and Related Research and Design Services, Industrial Analysis and Research, Computer Hardware and Software Design and Development).
To enhance the awareness of intellectual property protection among its employees, the Group also rolled out a special training programme on "Practical Training in Copyrights of Creative Staff". Moreover, the Group entered an annual cooperation agreement with registered material suppliers to provide an environment for the regulated use of material by employees.
Looking into the new year, SinoMedia will continue to effectively enhance management efficiency; to uphold the integrity-based and win-win cooperation principle; to carry out the energy-saving, environmental-friendly, low-carbon green code of conduct; to step up the people-oriented protection that cares for employees physical and mental health and career development; and to play an active role in participating in social and public affairs. While abiding by these commitments, the Group will strive to carry out innovation and make unremitting efforts to build itself into a top and leading integrated media operations conglomerate in China and around the globe.